I'm having my first blog giveaway! Oh, I'm so excited! All bath and body products that you will receive have been hand formulated by me and tested on me and my willing human guinea-pigs. They include my family, my boyfriend and some of my more skeptical friends. So far, fingers crossed, reviews have been good :)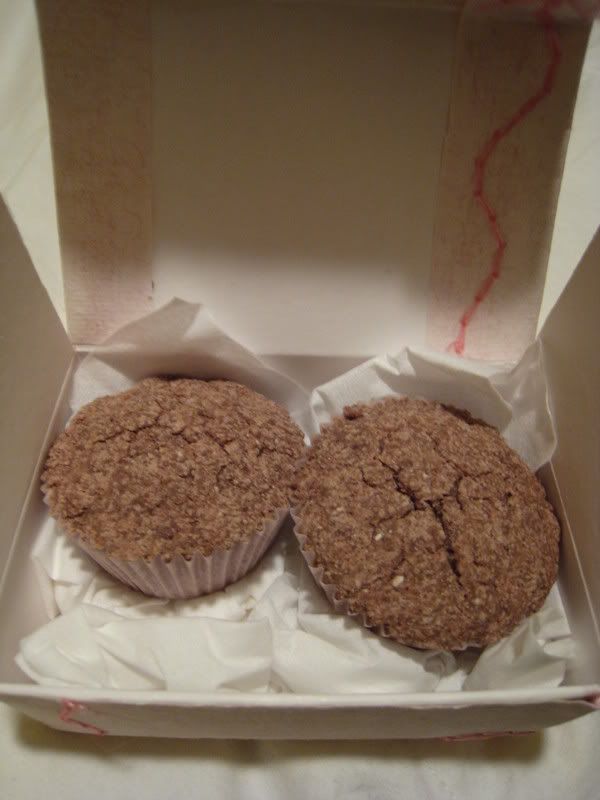 You will receive an avocado and yoghurt soap, carrot and calendula soap as well as a box of two chocolate bubble muffins in this pretty pink bag! The winner will be randomly selected.
I apologise that although my soaps are suitable for vegetarians they are not suitable for *vegans.
*The Carrot and Calendula soap and Bubble Muffins are vegan.
Ingredients and Description
*
Avocado & Yogurt Soap

This soap is made with 60% avocado oil and contains real avocado pulp and yogurt. It is superfatted with one of my favourite oils, macadamia oil. Deliciously creamy and fragranced with Clean Cotton. Smells like fresh laundry blowing in the breeze! The golden green colour you see is a result of the natural green colour of the avocado oil. Perfect for spring!
Avocado oil, coconut oil, palm oil, macadamia oil, avocado pulp, yogurt, castor oil, fragrance oil, tussah silk.
*Some ash has developed on the top but I left it as it is as I thought it made a cool "topping".
Carrot & Calendula Soap
This soap is incredibly mild and gentle and is suitable for use on the face without drying it out! The smell is a very natual, fruity scent thanks to the Roman Chamomile essential oil. It has a very soft, creamy lather and feels wonderful on your skin.
Olive oil, fresh carrot juice, infused calendula in sunflower oil, coconut oil, palm kernel oil, palm oil, castor oil, carrot seed oil, roman chamomile essential oil.
Chocolate Bubble Muffins
These muffins will give you oodles and oodles of bubble fun! The cocoa butter and oatmeal flour (colloidal oatmeal) will leave your skin feeling soft and supple while you enjoy the deligthful fragrance of chocolate covered strawberries. To use, just pop one muffin (this stuff is potent!) into a tub of warm running water, get in and relax!
Bicarbonate of Soda (Baking Soda), SLSA, Cocoa Butter, Citric Acid, Oatmeal Flour, Cocoa Powder, Cocobetaine, Fragrance.
Perfect for gift-giving or for keeping ;). Anyone can enter, anyone from anywhere in the world! And all you have to do is leave a comment on this blog until the end of the contest! The contest will end on the 21st of April. The winner will be announced on the 22nd!
Happy bathing! Start commenting now!