The wind was ferocious today here in Melbourne. I had to literally fight my way to the bus stop! Weather warnings were issued all over victoria because of the gusty winds. I was on my way to uni in the bus and I kept spotting trees that had fallen over due to the wind. Suddenly, there was a loud BANG and the bus driver went "Whoa!" while all of us in the bus sort of nervously looked at each other. Apparently, a huge branch had broken off and bounced off the top of the bus and was now lying in the middle of the road.
So now, half of Melbourne has lost its power and I'm just glad that my apartment wasn't hit! Still, it's not as bad as the mini hurricane that we had in Malaysia once. Roof tiles were actually being blown off houses! As if this crazy wind isn't bad enough, we're having rain and there is a chance of a thunderstorm and hail later on. I love Melbourne but I do not love their temperamental weather :(
I forgot my key today so I was locked out for a bit but now I'm warm and cosy back home which is good :)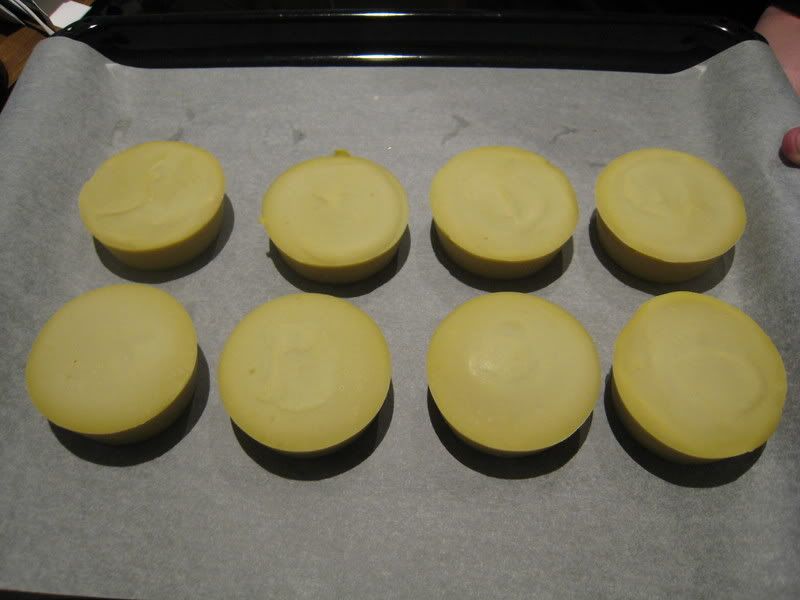 My new soap! Made with 60% avocado oil, pureed avocado and yogurt. I scented this with
Clean Cotton from Brambleberry
. It smells great! The soap on the bottom left is the prettiest. As you can see, I still have trouble with figuring out "thin trace". Next up solid bubble bath, wish me luck ;)
I noticed some of you like the blue in the previous post! I used the
Blue Brites for CP soap
from
Aussie Soap Supplies
. I think you can achieve the same effect with
Brambleberry's Lab Colours
.
Speaking of weather, for those of you in the USA, spring is around the corner isn't it? I hope you all enjoy lovely weather! Spring reminds me of colours, flowers in bloom and sweet smells.
Happy Soaping!