It boggles the mind how I'd manage to miss Judi at
Satin Petal Soap
on etsy. This lady is a creative genius and you only have to look at the pictures on her site to agree. Apart from that, she also seems like a very sweet and fun-loving person!
Here is what she has to say about herself:
"
Hi!
My background...
Grew up in a crazy creative house! LOL! Projects going all the time :o) Piles of projects, tee hee!
I have 3 children...
1 Boy + 1 Girl + 1 Husband = 3 Children
I make jewelry, as well!
Hands always busy, busy, busy!
My passion is animals, I would have Noah's Ark if I could!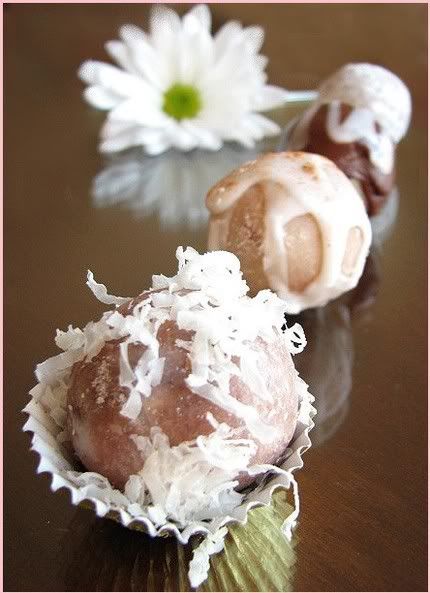 My signature product is my Layered Soap Truffles, YUMMMMMY! They are the biggest Pain to make but boy are they worth it! Layer after layer of succulent suds! WOWza!
I was inspired by not being able to find the perfect gift for a woman...
I wanted to have the presentation be a gift in itself.
Truly unique, thoughtful, useful,
affordable, and practical gifts that would be truly appreciated.
"
Here are how her layered soap truffles look like on the inside. She fragrances them individually so if you are hard-pressed to choose from the delicious array of her soap truffles, this is the one you are looking for! It's like having 3 or 4 different soaps in one, kind of like the sweets that change colour and flavour as you continue to suck on them. Judi, I tip my hat to you on this one, truly a unique product!
She also makes these fantastic whipped shea creams. Don't they look exactly like a yummy bowl of ice-cream? It's taking everything I have not to buy out her whole shop!!
She also runs a jewellery store on etsy
here
with equally creative and beautiful products. The pictures all link back to her listings.
I would like to thank Judi who graciously allowed me to feature her on my blog. Your soaps are absolutely delicious!