So, did Judi's delightful, delicious and divine
soap truffles
make anyone crave chocolate? If the answer is yes, then I have something un-soaping related for you today. :)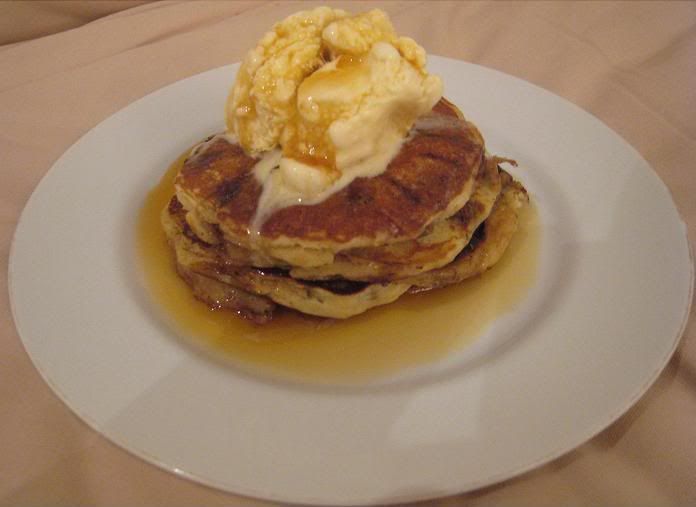 Chocolate Chip Pancakes
Ingredients
:
2 cups all-purpose flour
3 tbsp sugar
½ tsp salt
1 tsp nutmeg (or cinnamon)
2 tsp baking powder
1 tsp baking soda
2 large eggs, lightly beaten
3 cups buttermilk
4 tbsp unsalted butter, melted (plus extra to grease skillet)
¾ cup mini chocolate chips
What to do
:
STEP 1
: Heat an electric skillet to 375 degrees F. Whisk together flour, sugar, salt, nutmeg, baking powder, and baking soda in a medium-sized bowl. Add eggs, buttermilk, and butter and whisk to combine. Don't over mix. Fold in chocolate chips with a spatula.
STEP 2
: When skillet is hot, add ½ tbsp butter to grease. Using a ¼ cup at a time, pour batter onto skillet in evenly spaced rounds. Cook for 2-3 minutes, until bubbles pop on top and edges appear done. Flip and cook for about a minute more, until golden brown.
STEP 3
: Serve immediately or cool on a wire rack and eat as a midday snack. Really, they're terrific cold.
Makes fifteen 4-inch pancakes.
I got this from
8legged.com
. Do visit the site! It's a cartoon cooking show run by the cutest octopus. Trust me you'll love it! Or your kids will at least :). The pancakes are super duper yummy especially with maple syrup and ice-cream!
On another topic, I'm moving next week. Moving in with my aunt, uncle and cousin and Dan's going back to his mum's. It's temporary until August or so as my parents are planning on buying a house but until then we made the decision to spend the rest of that time back at our respective houses. Rent is insane in Australia lately and the money that we save can go into our holiday fund.
It won't be easy especially since we've tasted "freedom" but we think our bank accounts will thank us in the long run. Wish me luck everyone! My exams are coming soon too in about 2 months *tears hair out*