I remember excitedly telling a friend of mine (he's a guy by the way) about the first time I made a bath bomb and he goes "Ewwww, I don't want to know what you do in the toilet." Well, lucky for you, that wasn't what I made and that's not what I'm going to teach you how to make.
A bath bomb or bath fizzie is a ball that when dropped into a tub of water effervesces, basically meaning it fizzes and releases scent, colour or other properties in to the water depending on what it's made of. It is a combination of bicarbonate of soda and citric acid. When combined and added to water creates a chemical reaction and carbon dioxide is released.
Basic Bath Bomb
There are many good recipes for the most basic of bath bombs and you can find one
here
,
here
and
here
Bath bomb moulds and colourants can be found at Brambleberry if you are living in the U.S and Aussie Soap Supplies if you live in Australia. Links are on my sidebar.
Tip: Don't have a mould? Cut a tennis ball in half, makes a lovely mould. In fact cut open any hollow ball in half and it'll pretty much do the trick.
You can add almost anything your little heart desires like salts, fine oatmeal, oils, milk powders, honey powder, herbs, flowers, cornstarch and the list goes on. Do check out some great recipes for bath bombs at Bath and Body Recipes or At Home with Arista after you are familiar with the technique. Again, links are on the sidebar.
Here
are a list of other fun things you can do involving bicarbonate of soda and citric acid like making a rocket!
Lush Handmade Cosmetics has obtained cult status here in Australia and their bath bombs are part of what projected them to fame. Celebrities like Kylie Minogue and Halle Berry are big fans of Lush.
Below is their bestseller bath bomb called the
Butterball
.
Ingredients
Sodium Bicarbonate, Citric Acid, Cocoa Butter (Theobroma cocao), Synthetic Musk, Ylang Ylang Oil (Cananga odorata), Perfume.
Description
Let's make this clear now; it doesn't have your usual kind of butter in it, the kind of butter that comes from cows. It does have cocoa butter, made from the roasted seeds of the cocoa bean, to condition and soften your skin to make it gloriously smooth to the touch. As the Butterball fizzes into oblivion, the bathroom is scented with ylang ylang with a touch of (synthetic*) musk and a hint of chocolate from the tiny shavings of cocoa butter that melt in the water's warmth. Your whole body will be moisturised and perfumed so beautifully that you won't want to put your clothes back on. Use Butterball just before bedtime or whenever you're going to wear something that reveals an expanse of bare skin.
The picture and passages above are taken from the Lush Australian Website. I used Lush as an example because of their popularity and because this particular bath bomb is notoriously easy to make. I am assuming by now you have already read the basic bath bomb recipe. Please do so as I'm running quickly through the instructions and not covering everything.
Basic Butterball Bath Bomb
1 cup bicarbonate of soda
1/2 cup citric acid
1/2 cup grated cocoa butter
Musk Fragrance Oil (to your liking)
Ylang Ylang Essential Oil (to your liking)
60 mm bath bomb moulds
1. Combine the bicarbonate of soda and citric acid and run it through a sieve. This makes it easier to work with as bicarbonate of soda tends to clump and form hard little balls.
2. Add the fragrance and essential oil and blend well.
3. The trick to getting grated cocoa butter is to use a drum grater. Cocoa butter melts at skin temperature and the less you touch it, the better. Add the grated cocoa butter.
4. Spritz lightly with witch hazel while stirring continuously until you get to the stage where the mixture JUST sticks. Yes, a little bit of cocoa butter will melt, we can't help that.
5. Pack the mixture into both halves of the mould and squish together. Let dry for a few minutes, pop out and let dry for a further 3 - 4 hours on wax paper.
Should make about 4 bombs. Well, you know what? You just made 4 butterball bath bombs that would've otherwise cost you
AUD 5.95
each.
1 cup bicarbonate of soda (AUD 0.50)
1/2 cup citric acid (AUD 0.48)
1/2 cup grated cocoa butter (AUD 3.60)
AUD 0.50 + AUD 0.48 + AUD 3.60 =
AUD 4.58
You get 4 bath bombs for less than the price of 1 Lush bath bomb! I just amazed myself. I never bothered to do the calculations before. I only knew it was cheaper, now I know
how
much
cheaper.
Discounting the price of the fragrance and essential oil because I don't know how much you will be adding...but still!
I hope you enjoyed that. Bath bombs are so fun to make and fantastic to use. Have a great weekend! I leave you with another pretty picture of a bath bomb from Lush. Another bestseller called the
Sex Bomb
.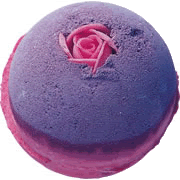 Lush Official Website
Lush Australia Website