Many soapers enjoy using silk in their soaps as it contributes to a silky feel and a silky lather. However, some of us out there are concerned by the way silk is cultivated. The cultivation of silk is called sericulture and it usually involves the killing of the moth by heat while still in its cocoon to allow the silk to be unravelled in to a single strand and dissolve the resinous gum that holds it together.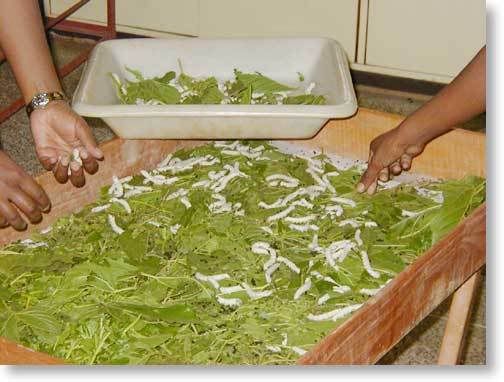 Over two thousand silkworms are needed to produce one pound of silk. That's two thousand silkworms killed by being immersed in boiling water, steaming or drying in an oven for just one pound of silk.
Luckily, there are vegetarian-friendly options if you love the feel of silk. Some silk known as Peace Silk or Vegetarian Silk are harvested from the damaged cocoons after the moth has broken free. Because the silk has been broken into many strands, it is spun like other fibers such as cotton instead of being reeled onto spools. It is not as strong and is slightly discoloured due to the alkaline solution the moth uses to break free of its cocoon.
The silk I use is
tussah silk
from
Mountain Spinnery
and their claim is that no silk worms are killed in the process of cultivation.
It's important to ask the right questions when purchasing silk for what you believe is a more ethical and eco-friendly option. For more info, you can click
here
.
However, please be mindful that any silk is still not vegan as it comes from an animal. Definition of vegan
here
.
To use silk in soap, dissolve a pinch or no more than one gram of silk for a kilogram of oils in your lye and water solution. It won't dissolve straightaway so you may have to leave it to sit for a while. Give a final stir then use as you normally would.
Below are some companies that offer Peace silk:
USA
Aurora Silk
Ahimsa Peace Silk
Near Sea Naturals
Australia
Mountain Spinnery
Treetops Colours Harmonies
Bright View
All Eco

UK
Denise Bird Woven Textiles
Texere Yarns
The Silk Route