I just realised I didn't say what fragrance I used for the
blue soap
. It's
Moonlight Path BBW Type
from
Save on Scents
. It has a very heady floral yet powdery scent which I like. It's described as a blend of lavender, roses, violets and musk.
I've been busy making soap! Oh my, it's like an addiction I can't kick. I keep thinking "Hmmm, maybe I should make some cream today but oh, there's that soap I really wanted to make!".
So here are more of my soaps!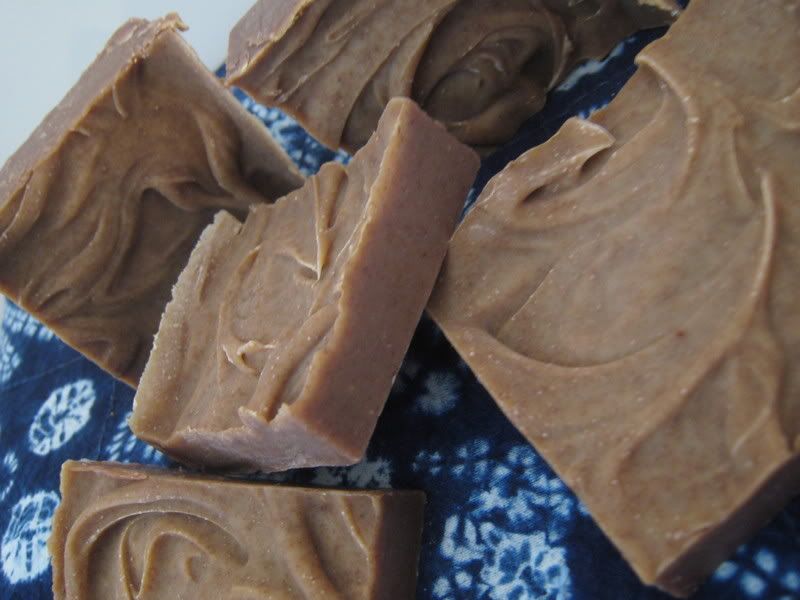 Chocolate soap scented with
Brambleberry's Dark, Rich Chocolate
and it smells delicious! Yum...
Lastly, the Oatmeal, Milk and Honey soap superfatted with meadowfoam seed oil. I left this unscented but included some orange peel and vanilla infused olive oil. The vanilla didn't come through though unfortunately. However, it smells lightly of honey and reminds me of biscuits for some reason. These are great big hunks of soap and now I'm thinking maybe I should have cut them smaller.
I'm making soap again tonight! I'm on a roll! I want to try making solid bubble bath next. My sister would love that.