Burt's Beeswax Lip Balm - How it works
"This natural lip balm moisturizes lips with ingredients like ultra-emollient lanolin, coconut oil and sunflower oil, and seals in hydration with beeswax. You can use it on healthy lips for a little peppermint tingle. Take your pick of an old-fashioned yellow tin or a recycled plastic tube. No wonder it is our most popular product.
Ingredients
: Tube: beeswax, cocos nucifera (coconut) oil, helianthus annuus (sunflower) seed oil, mentha piperita (peppermint) oil, tocopheryl acetate, lanolin, symphytum officinale (comfrey) root extract, rosmarinus officinalis (rosemary) leaf oil, tocopherol"
The above excerpt was taken from the Burt's Bees website. I chose to use the ingredients list for their lip balm cause it happens to be insanely popular.
However, today we're going to formulate our very own honey and beeswax lip balm!
I'll tell you what we won't use in our recipe though. Lanolin. It is a greasy yellow, almost waxy substance that is obtained from the serbaceous glands of wool bearing animals such as sheep. No sheep are harmed when lanolin is extracted as it comes from the wool itself and not the animal. It is an excellent emollient and lubricant, absorbs readily into the skin and is wonderful in treating chapped lips among other dry skin conditions. So why am I omitting this wonderful ingredient? I'm not vegetarian, I just have this thing against using animal fat like beef tallow, lard or human fat from liposuction (think Tyler Durden in Fight Club!) in things like my soap. And I don't want to be licking off wool fat from my lips. So all my creations are vegetarian (includes eggs) and mostly vegan. Do incorporate it if you like though!
Fact: Lanolin is a key ingredient in Oil of Olay.
One thing we will add though: honey! Honey is a humectant, meaning it draws moisture to the skin and it keeps it soft and hydrated. Vegetable glycerine works similarly and you can use that if you are allergic to honey, it even tastes sweet! However, we use honey here because of the beeswax, because it tastes yummy and because its all-natural! Glycerine is a sugar alcohol and depending on how you look at it, it is either nearly natural or natural. It is a by product of the oils from soapmaking and biodiesel production.
Regarding peppermint essential oil, there have been contradicting reports . Some experts claim that peppermint oil can be drying for the lips and the tingling sensation is addictive. On the other hand, some claim that peppermint oil is moisturising. Lip plumpers contain peppermint oil sometimes as it is a mild irritant causing blood to flow and the lips to swell temporarily. What do you think?
Now what oils do we use! Desicions, decisions. Okay! I leave the decision up to you! Olive oil, jojoba oil, macadamia oil, shea butter, cocoa butter. In this recipe I use cocoa butter for its emollient properties and the light chocolatey scent and macadamia oil because its nice and rich, doesn't absorb as readily so you get a nice glossy layer on your lips.
However, for the pictures I was experimenting with a different oil and used avocado oil because the avocado is an amazing fruit and so good for you in so many ways. I was worried the green oil would colour the balm and I was right. Yellowish green, umm not very attractive. Still it felt divine on my lips and stayed on well despite my constant licking. You know, I think extra virgin olive oil may colour the lip balm as well so use a lighter coloured olive oil if that's what you plan on using.
Beeswax and Honey Lip Balm
3 tsp macadamia oil
2 tsp beeswax
2 tsp cocoa butter
1 capsule of vitamin E
1 tsp honey
5 drops of vanilla extract (optional)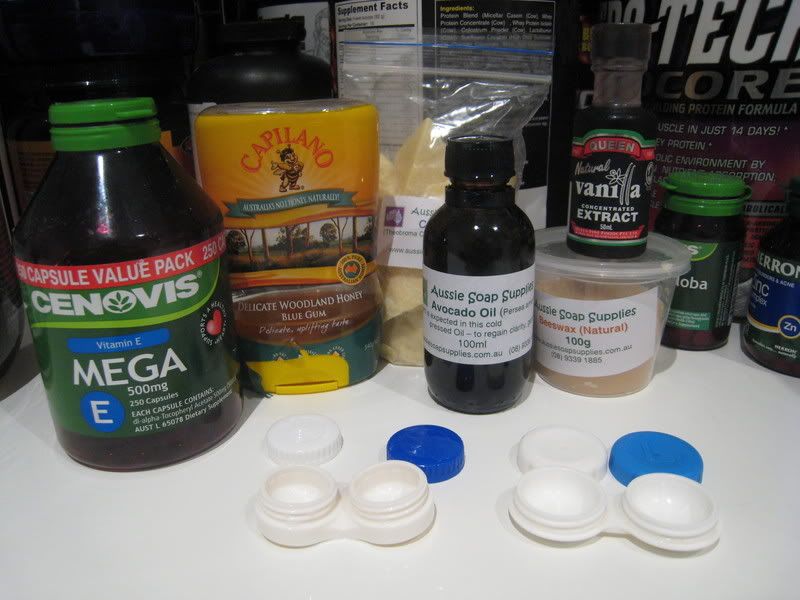 Heat the beeswax, cocoa butter and macadamia oil in a double boiler or a saucepan on low heat.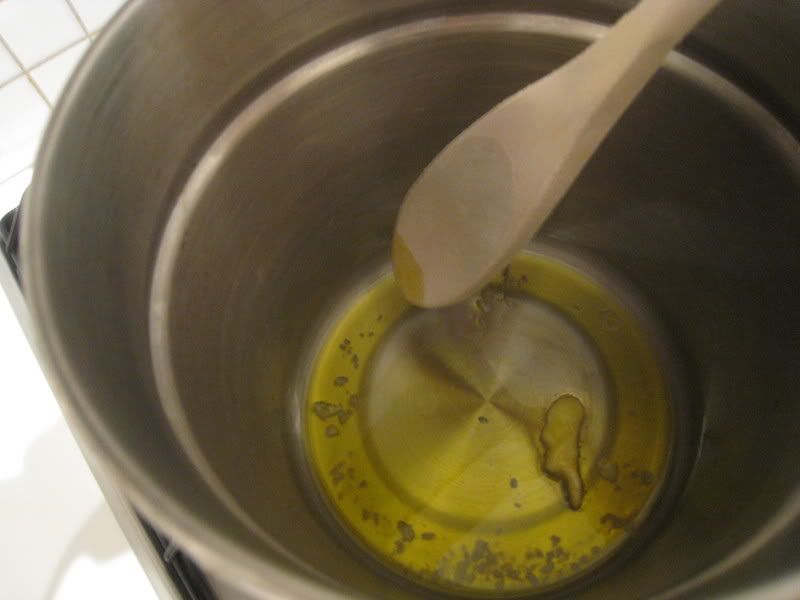 When the beeswax and cocoa butter have melted, add the oil from the Vitamin E capsule. Just prick a hole with a knife and squeeze out the oil. Add the honey then remove from heat. Take the top pot out of the bottom pot if you're using a double boiler. Keep stirring and add the vanilla extract. Continue stirring until it has cooled somewhat or thickened slightly (I let it thicken a little too much).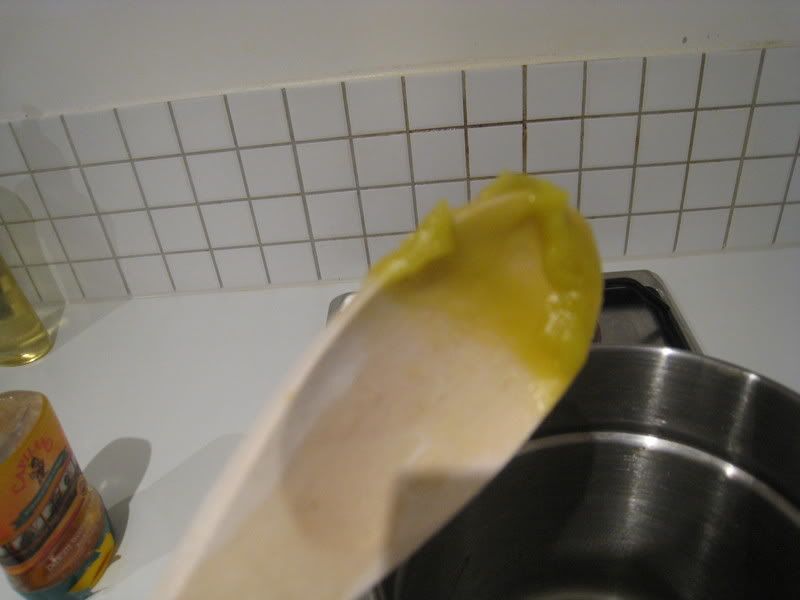 This way you can make sure the honey and vanilla wont separate. Really, it's not meant to as the beeswax is an emulsifier (helps bond water and oil). Spoon it in to a lip balm pot.
I used up all my lip balm pots for my various lip balm recipes so in a pinch, I used empty contact lens cases which I sterilised in boiling water. See!
Well I had to use something! And I'm recycling :)
That's it! Experiment, it's always fun! Enjoy!