Hello everyone! I've been gone a long, long time and my blog has been on the back burner for far too long. The past few months have been a whirlwind of activity for me. However, lately, I have been a little down in the dumps thanks to the recession. Unemployment here in Australia is rising steadily which does not bode well for a fresh graduate like me. I have been applying for work for the past few months and still nothing :(.
Oh well, enough of me whining! I actually am sorry that I have not been keeping up with my blog. I know how great it is to read a blog that is updated daily. Now by way of apology to all my loyal readers who still visit my blog, I am holding a giveaway which include some yummy goodies that I have been working on lately.
Delicious, rich, creamy chocolate fudge soap! Would you believe I ran out of coconut oil? I know, it's embarrassing. Thankfully, I still had some palm kernel oil left over.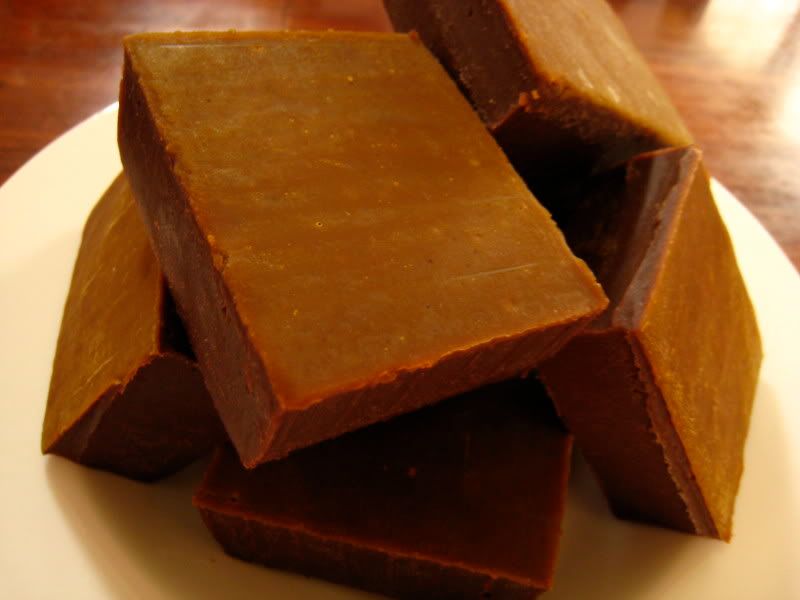 Ingredients: Olive oil, Palm kernel oil, Castor oil, Cocoa powder, Fragrance, Tussah silk.
Next on the menu, we have Strawberry Cream Bubble Rolls!! This was an experiment on bubble bars and the mixture was a little crumbly at the end. It didn't hold together very well and was supposed to come together like dough. However, I am still pleased with the end result. I ran a few bits and pieces under the tap and there were instant bubbles! It smells really yummy as well.
Ingredients: Sodium Bicarbonate, Sodium Lauryl Sulfoacetate, Tartaric Acid, Glyceryl Cocoate, PBS Base (Aussiesoapsupplies blend), Cocamidropropyl Betaine, Fragrance, Food Colouring, Candy Sprinkles.
To enter the giveaway, all you have to do is leave a comment on this post and you will be in the running to win 1 chocolate fudge soap and 2 strawberry rolls! The last day to enter will be next Friday. Have fun!