I'm back from busy, busy land and hoping that I've passed all my exams in my final semester. That being said, if I
do
pass, I will have completed my first degree :). So many things have happened!
I was doing a Bachelor of Business (Tourism and Hospitality) and I do not want to start working yet!! Well, work for real or full-time rather. I told you I'm lazy. Anyway, in high school in Malaysia or Year 11 here in Australia, I took purely science and maths subjects. Now, I have this crazy desire to take up science and maths again. It's either a Bachelor of Science or a Bachelor of Arts. If I do science I have no clue what subjects I will take but if I do arts I will take up two languages and linguistics.
I wouldn't mind doing a Masters but I don't want to be overqualified and besides, I don't know if I will be able to survive a Masters! If anyone wants to offer their opinions or advice it will be gladly appreciated :)
Back to soap and such! A picture below of the shampoo and conditioner I made for my sister. The recipe for this particular conditioner is different to the one
I made before
. I upped the water content plus added some extra goodies like green tea extract and dimethicone. Overall, I preferred the previous recipe eventhough it was simpler.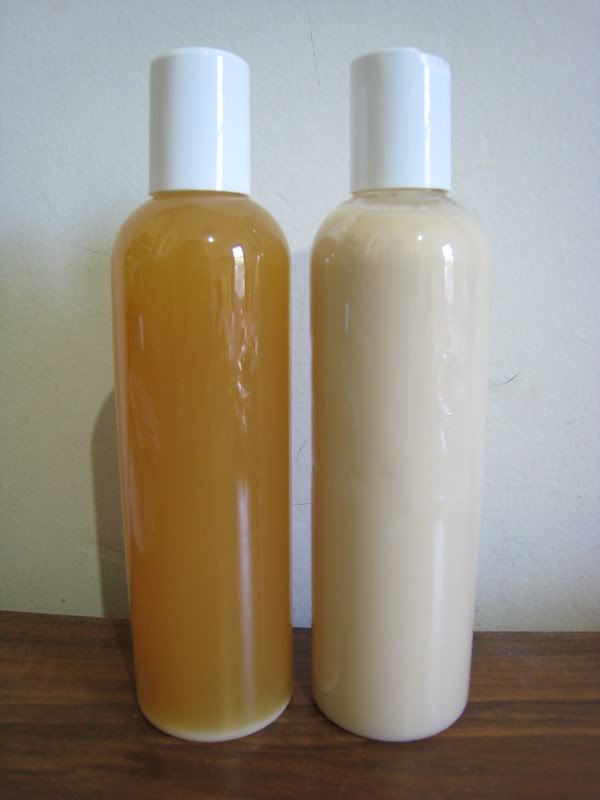 This conditioner is very light and suitable for people with oily hair or those who wash their hair everyday. Otherwise, if you have hair like me on the drier side, you will need to slather on heaps more. However, I find with this conditioner, you can get away with less washing as it conditions but doesn't weigh down the hair. In essence, it takes longer for you hair to become oily (accumulate sebum) between washes.
Still, I will try reducing the water content for next time to increase the strength of the conditioner. However, it still is a lovely conditioner and my friend commented on the softness of my hair which made me happy!
The shampoo has a rich lather and leaves your hair squeaky clean. That may or may not be a good thing depending on what you like. It does contain glyceryl cocoate for emollient properties and absolutely no sodium laureth sulfate! The main surfactant was a
PBS base
from Aussie Soap Supplies. I, personally, do not like the squeaky clean feel and might experiment with different surfactants.
Both the shampoo and conditioner are paraben free as well as pH balanced to about 4.5 - 5. There is some science to acidic shampoos and conditioners which tighten the cuticles of the hair instead of lifting them up like basic hair products do. It is supposed to make hair look shinier and feel smoother. I was doing some googling about pH and hair which you can do too if you are interested! There are quite a few articles.
The one in the picture is fragranced with
Ginger Souffle
by Aussie Soap Supplies. The colour was achieved by steeping some hops flowers in boiling water. I'm happy with the colour and although the smell is unlike the Ginger Souffle fragrance from Origins, it is still very pleasant. The smell of the ginger is a bit more evident and there is a touch of honey in it which works extremely well with the sharpness of the ginger.
I also scented another batch with Island Kiss (Escada Type) which by the way smells exactly like the real thing! However, the earthy smell of the hops messed with the fragrance a little. So, in my next batch I will have to keep an eye out for smell altering properties. Some of the surfactants had a strong smell as well but the fragrances covered it up nicely.
Anyway, I'm off! I am going to make a yummy eye cream next which will have a secret ingredient I'm eager to try out. See you all soon! I've missed all my blogging friends :(