Look what came to me in the mail recently.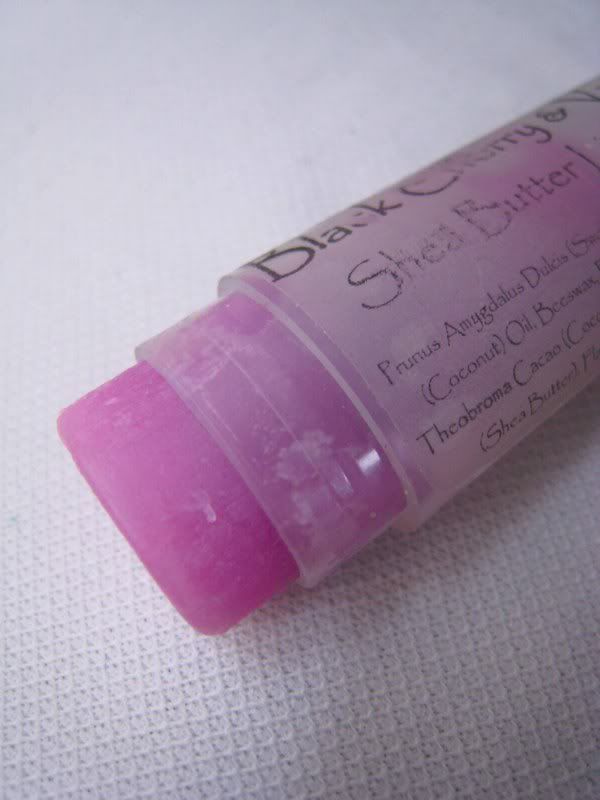 Black Cherry and Vanilla Shea Butter Lip Balm from Elizabeth Gassner at Gassner Custom Soaps! She sent me a little present for commenting on a little competition she had on her blog post. I didn't actually get it right but she sent me something anyway. Isn't she a sweetie? The packaging didn't actually come like that. I've been using it and my fingers must have rubbed some of the ink off. That is proof that I adore this lip balm!
Oh lip balm, how I love thee, let me count the ways! Okay, first of all, this lip balm comes packed in the cutest oval tube I've ever seen. Makes for an easy applicator, I absolutely love it. Very unique!
Second, I fell in love with the scent, oh and what a scent! It smells exactly like sweet cherries. I used to have a doll that smelled like cherries when I was younger and this sure does bring back memories :).
Last but not least, I adore how it feels on my lips! It glides on smoothly and leaves behind a gorgeous, glossy sheen. The best part? It doesn't feel oily at all. After a while, I barely realise it's there!
Thank you Elizabeth for the lovely gift!!
You can get one of her amazing lip balms
here
. You can also pick any flavour you want and for USD 2.50 it's a steal!
Gassner Custom Soaps Main Website
Gassner Custom Soaps's Etsy
Elizabeth's Blog